North East Indiana's Second Largest City

(20 miles southwest of Fort Wayne, Indiana; the midwest's fastest growing city)
Locations available adjacent to the Wal-Mart Super Center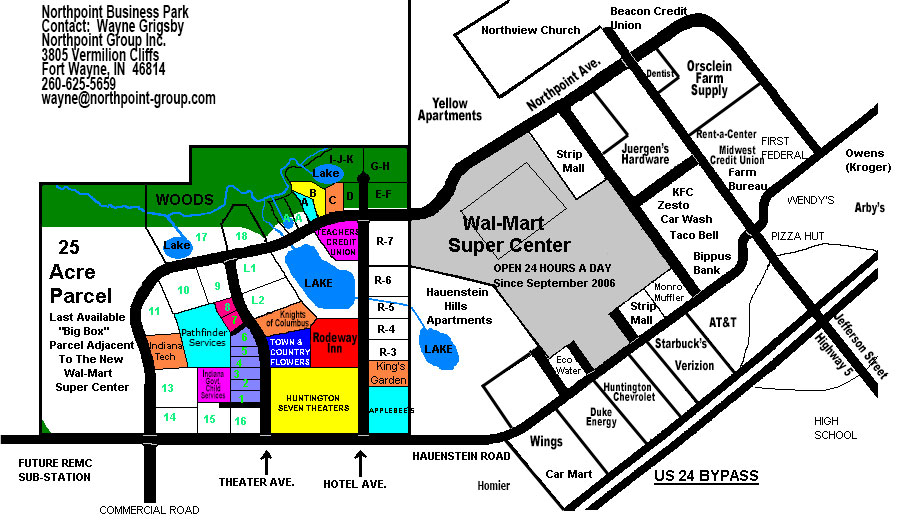 ---

Contact the Northpoint Group directly for information on any of the following properties:

Northpoint Business Park in Huntington, Indiana
Guilford Street @ US24 Bypass in Huntington, Indiana
Flaxmill Road @ US24 Bypass in Huntington, Indiana - SOLD
Riverfork Industrial Park in Huntington, Indiana - SOLD

---


The "Five Bridges Corridor" Transportation Plan For Huntington's South Side Business Area



---

Now open. Tthe Huntington 7

---


Explore Huntington's newest Acres Land Trust park. Pehokia Woods

takes its name from the Miami word for "peace."




Located on Flaxmill Road just befind the Commercial Road Industrial Park this 97 acre Land Preserve is sitting right next to the city limits of Huntington. Pehokia woods has approximately 2 miles of beautiful forested trails. Watch for exciting improvements to the park that are now underway.
Learn more...

---

See Your Property Information On The Huntington GIS System

Call 811 before you dig. Get your utility lines marked before digging. Digging into electric, gas and cable lines can be dangerous and expensive.

---

46750.com earns Goes Green Certification






Huntington, Indiana, 46750 is located approximately 20 miles southwest of Fort Wayne, Indiana on Highway US24. Huntington is NE Indiana's second largest city, after Fort Wayne. It is the home of Huntington University, the Dan Quayle Vice President's Museum and the Forks of the Wabash River. Huntington, Indiana is a great place to live and work, along with a good school system, low cost housing and an award winning Huntington Hospital associated with Parkview Hospital in Fort Wayne. Visit Huntington and see why Huntington is such a great part of Indiana. See information on Well Water Filters and Replacement Water Filters. Advertising services by Kevin Anderson at the Anderson Agency Advertising.
Back to www.46750.com
Copyright © 1999 - 2022 Northpoint Group, Inc. Fort Wayne, IN 46814 USA All rights reserved.